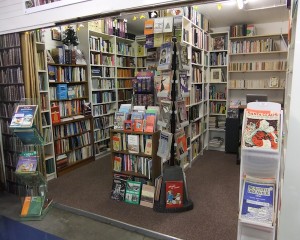 Twelve Months In Oswestry Indoor Market! Doesn't time fly? We moved in exactly twelve months ago today. And what a year it has been. We've sold books, we've bought books and we've made friends. We had no real idea what to expect when we decided to move into the market. There had been a bookshop here for years but it finally closed down when the owner retired. There used to be several other secondhand bookshops in town but they had all slowly withered away. We had no experience of retail and the perceived wisdom was that 'bricks and mortar' bookshops were doomed; killed off by charity shops and the internet.
Alive and Kicking
Well, we're living, breathing proof that it is possible to make it work. For sure our rent is low and we only open three days a week, but we have been able to satisfy a very real demand for both books and music. We've built up a complete cross-section of regular customers who come in weekly to buy and, gradually, the fact that we exist is slowly seeping out into the wider community. It is fair to say that the local media and even the Council, who run the Market, have done little to promote things and do not seem to appreciate that, even though we are a business, a bookshop is also a community resource. However, as a business, we realise that our success is ultimately our own responsibility so we have got on with the hard work of providing the very best service we can while promoting ourselves in as many ways possible. And word-of-mouth seems to be having an effect. Customers are coming from further afield and even local people who hadn't been in the Market for years have come back to have a look.
Friends
We've made friends as well. Not just with our regular customers, who often stop in for a chat, but with the other stall-holders. This Market won the national award for the Best Council-run Market in the UK this year and it is easy to see why. Great customer service, friendly people and a good selection of different shops. Not just the traditional market stalls like veg shops and butchers but specialist jewellery shops, antique stalls, oriental food supplies, a hairdressers, a dedicated Welsh shop, delicatessen (great sausages!), artists and, of course, a bookshop. There is a generally supportive atmosphere here and a real interest in helping to make the overall market successful.
Buying
Our online business has also continued to develop and has been enhanced by us being in the market. We get offered the chance to buy books every day and, while we turn the vast majority down, we sometimes see collections that we just cannot refuse. Many of these books find their way online, providing us with the diversity and breadth of inventory that we like to try and maintain. We also provide a book acquisition service, sourcing and buying specific books for customers who have been unable to find what they are looking for themselves, or who find using the internet problematic.
The Next Twelve Months
We're looking forward to the next twelve months. This year has been our best year to date and there has been a marked upturn in business as we move towards Christmas. We are naturally somewhat cynical about the repeated claims the economy is on the turn for the better. Oswestry and the surrounding rural area is generally not that wealthy and there are some truly poor people here who rely on the food bank and charities to make ends meet. Our High Street also has nearly as many closed shops as open ones. But, in general, people do still seem to value and desire books. If trade continues at least 'as is' then we will have another successful year to look forward to. And, if things really are picking up, then 2014 might well be a year to really remember.