?Iain Banks – a personal favourite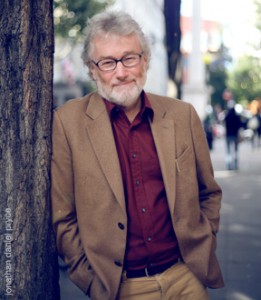 A lot of column inches have been written about the sudden and untimely death of Iain Banks, one of the UK's most successful author's. However, we just wanted to record our own own sadness at his passing as he was one of our favourite writers.
The Wasp Factory
Many years ago now a friend suggested we read 'The Wasp Factory' and, because we enjoyed it so much, we carried on reading pretty much everything Iain Banks has written ever since, including the Science Fiction (as Iain M. Banks) and his semi-autobiographical romp around the distilleries of Scotland – 'Raw Spirits.'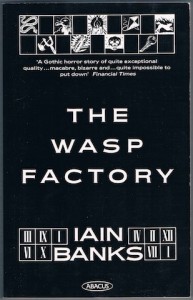 Arguably his first book was the best. It certainly caused a stir when it was first published, with some critics calling it repellant and not fit to be published. But, along with the vast majority of readers, we enjoyed the mordant wit and black humour as well as the sheer inventiveness and creativity…..and the gothic horror! That he managed to squeeze so much into one book became one of his trademarks, his books fizzing and sparking with ideas and energy. If 'The Wasp Factory' was the best individual book (for us), the creation of 'The Culture' as the basis for many of his Science Fiction works, will have a lasting and far-reaching legacy too.
'Real ' Scottish
Scottish to the core, that sense of identity and 'otherness' underpins most of his works, many of which are based in Scotland, or somewhere just a bit like Scotland, but fully uptodate, warts and all. And completely rooted in the real world, not some tartan myth of clans and misty glens. Drugs, drink, sex, violence, poverty (of the spirit as well as funds) and a sense of futility, fuel many of the books, but interlaced with the wit and humour and sheer enjoyment of language and the macabre that are his trademark.
Prolific
Banks acknowledged that he had a tendency towards punning and in-jokes and it is true that, occasionally, the ideas can side-track the story-line. But that is a minor criticism. He was prolific and maintained such a high standard of creativity and inventiveness across all of his works that the reader is often left breathless with excitement.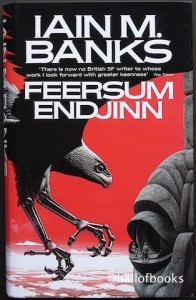 Fearsomely intelligent he was willing to stand up for his beliefs as his profile gave him a platform from which to speak and be heard – he tore up his passport and posted it to Tony Blair in a public display of protest at the Iraq War. A keen musician – music is often woven into his works – and humanist, he chaired a writer's team to win a special version of University Challenge and won Celebrity Mastermind with his specialist subject the whiskeys and distilleries of Scotland. He was just 59 when he died and, while his previous works will live on, we have now been deprived of anything new from one of the best writer's of the last 30 years. He will be sorely missed.
Books for Sale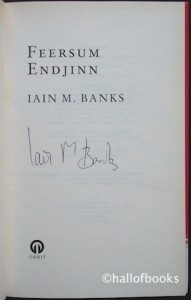 The signed copy of 'Feersum Endjinn' is now sold but we have other works for sale both online and in the shop.