?Crime Fiction
Although we are great book-lovers and readers at Hall of Books, Crime Fiction isn't something that has featured strongly in our own personal reading lists. However, we have a considerable quantity of crime fiction in stock, both hardback and paperback. Noir thrillers, who-dunnits, murder mysteries, detective stories, True Crime – you name it, we've probably got at least one example of all the sub-genres in stock.
Period Penguin Classic Books
We are particularly lucky to have a lot of the classic Penguin paperbacks from the 40s, 50s and 60s in stock. We have both the iconic orange and white Fiction series books as well as the green and white Crime series books. The Crime books in particular have always been much admired by us, but until now, little read.
Enforced Lay-off
I was recently forced to take some time off to recuperate after a visit to hospital. What better time to catch up on that list of books I have been meaning to read? One of the great things about the Penguin paperbacks is that they can be read in a day or so and I polished off a number of Crime Fiction titles while laid up. What a revelation!
Crime Fiction Titles
All the books are currently available through the Hall of Books website, but specifically they are: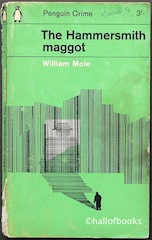 The Hammersmith Maggot by William Mole. I had never heard of William Mole and his amateur gentleman detective Casson, but this one was a cracker. Set in 1950's London, the title was enough to draw me in. But the story of a particularly 'maggoty' blackmailer and murderer, and his eventual capture, was full of period detail. People seemed to drink like fish! And post-war London was particularly well-drawn. Casson, the gentleman wine-dealer turned amateur detective, seems a little too good to be true. Driving around London in his flamboyant Rolls-Royce and able to neglect his business for days on end. However, he was a dogged hunter of his quarry, patient and resourceful. The net closes around the Maggot inexorably, but with a number of twists and turns. And the irrascible Inspector Strutt is particularly entertaining. Very original and great fun.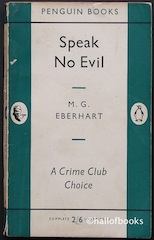 Speak No Evil by M. G. Eberhart. Set in Jamaica, this was a classic locked-room who-dunnit, with the beautiful young wife framed for the murder of her husband. Once again, this one was full of period detail – 1940s upper-crust detail, but also real snippets of island life. People seemed to smoke a lot tin this one. Inspector Friker, chief of the local police, is coldly intelligent and immediatley sees that all is not as it seems. The characters are strongly drawn and there are enough twists in the story to keep you guessing, although it is fair to say you can tell who the murderers are from fairly early on. Eberhart deserves the "US Agatha Christie" comparisons.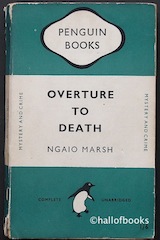 Overture To Death by Ngaio Marsh. Marsh may be from New Zealand but her descriptions of 1930s English rural village life, with all its petty jealousies and secrets, is very evocative. A classic who-dunnit centred around a village play, the murder itself is ingenious and startling. Great characters, a strong plot and some lovely period observations make this book very entertaining. It doesn't come as much surprise when we learn who the murderer is, but that doesn't matter. The storyline is great with some strongly drawn characters and a subtle exploration of the passions that run, often unobserved, below the thin veneer of normal day-to-day life.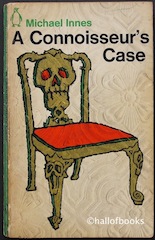 A Connoisseur's Case by Michael Innes. Another book in the crime thriller series featuring the sophisticated detective John Appleby. In this novel, set in the late '50s/ very early 60s, Appleby has been knighted for his services to the police and he is semi-retired. But his skills are required on his country holiday with his wife. A slightly predictable storyline is told with great brio and some finely drawn characters. The sense of change (not necessarily for the better) and the loss of a gentler, perhaps more genteel, way of living also underpins the narrative. Great final set piece where, like Agatha Christie's Poirot, Appleby draws all the strands together with unexpected results.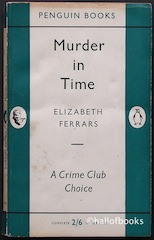 Murder In Time by Elizabeth Ferrars. Perhaps my favourite of the books here, this one doesn't feature a 'star' detective but focuses on a very strong storyline with some great characters. I don't know if it has been made into a film or TV drama but it should have been! It also has a female lead. Set in the early 50s, in post war England, the sense of change, the frustrations stemming from war-time experience and the ultimate sleaziness of human nature are all explored. A country house-party murder-mystery, this one transcends the genre with a real 'shock and awe' ending. That the victim deserves 'it' is without doubt, but who-dunnit…well that is the question which leaves you guessing until the very end.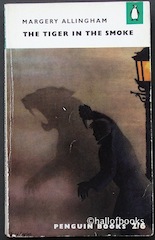 The Tiger In The Smoke by Margery Allingham. Another in a long line of Albert Campion mysteries, this one is set firmly in a foggy post WW2 London in the late 40s/early 50s. Featuring some very well-drawn characters, as well as some beautifully observed vignettes of real-life. The scenes in the cellar with the albino Tiddy Doll are particularly good. The overall plot is perhaps less interesting than all the incidental detail, but it still has a satisfying denouement. Very enjoyable.
Crime Fiction Summary
There are two really great aspects to all these books:
They are all very evocative of a way of life that isn't that far behind us, but which seems so distant that it could almost be mythical. It certainly is historical and yet it is also real. An England that, albeit for the purposes of these books is violent and murderous, is also deeply appealing.
They manage to be compelling and entertaining reads without any of the blood and gore, explicit detail or forensic clap-trap of modern thrillers. With, authors, ?film directors and TV producers seeking to out-do one-another in the 'shiver' stakes, they often forget that a strong plot and believable characters are what really makes a story. Things that all these books have in common….and in spades. I recommend them to you.